While the Clarius ultrasound scanner and companion mobile application leverage proprietary technology to enable true portability for live scanning, any time, anywhere, there are several additional tasks which make use of a secure, robust, consumer or commercial wireless network.
Wi-Fi Direct
When using the scanner's Wi-Fi Direct mode, there is never any WAN or Internet exposure. The smart device and the scanner have a 1:1 connection.
This 1:1 connection forms a specialized, secure, private wireless network: a specific tool with a specific purpose. One cannot utilize this specific 1:1 connection for anything other than it's intended purpose.
The 1:1 connection created by the scanner's internal Wi-Fi is specifically designed for the transmission of high quality data to/from the scanner and to/from the mobile device. It is a specific technology with specific architecture to perform this function.
The nature and specificity of this 1:1 connection means that the scanner can be used in any environment, in any situation, regardless as to whether there is, normally, an available secured wireless internet network.
This allows the clinician full control over patient care and scope of practice, as it is the clinician who decides when and where the diagnostic scan is performed, rather than this decision being dictated by availability of existing healthcare and/or network infrastructure.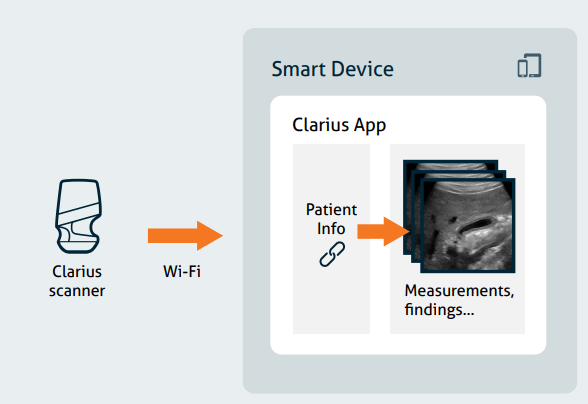 Your "Normal" Wi-Fi Network (ie: any Secured, Wireless Network).
The 1:1 connection via Wi-Fi Direct allows true freedom of diagnostic availability, but did you know your Clarius probe can also scan when connected to any secure wireless network instead?
That the network is secure (ie: password protected and in compliance with medical transmission standards) is the only requirement for connectivity to an existing Wi-Fi network.
This can be a private, password protected network such as those found in private homes and small clinics, all the way up to a large institution's secure wireless network. It's the wireless network to which you would normally connect to without much effort or thought.
In addition, the Clarius App and scanner use the broader availability, size, and speed of this secured Wi-Fi network to perform other specialized, specific tasks not encompassed within the specific purpose of Wi-Fi Direct.
More Bandwidth, More Options
There are several specialized functions of the Clarius App and Clarius Cloud that require the flexibility and increased bandwidth of a normal, secure, Wi-Fi network, rather than the specialized, focused, 1:1 connection of Wi-Fi Direct, which includes:
Uploading Exams to Clarius Cloud
Ability to Export Exams to DICOM
Updates to the app, including DICOM worklist updates
Sharing Exam via Email directly from the Clarius App
Remote viewing via Clarius Live
And much more!
For more information, please see the following article regarding Wi-Fi Direct and local W-Fi Connectivity.