There are many ways the scanner can be shut down, both manually and automatically.
If the scanner LED is off, then the device is off and consuming minimal power while the battery is inserted. In this state, the scanner will run the Bluetooth beacon for approximately 10 days with a fully charged battery.
If the scanner LED is on (any color), then the device is on and core circuitry is consuming power. While imaging, the scanner will run for up to 60 minutes with a fully charged battery; when not imaging, the scanner will remain on for up to 4 hours with a fully charged battery.
Physical Shut Off
Depending on the device, multiple physical shut off methods can be used:
On Clarius HD devices, the Down button default is programmed to shut the device off after a 3-second hold
On all devices, the battery can be safely removed while powered
Interface Shut Off
After a scanner has been selected (automatically by default when the App launches), it will power on the device, if not already. Within the App, pressing on the top bar that displays the probe name or serial, as well as the loaded application, will reveal the power off button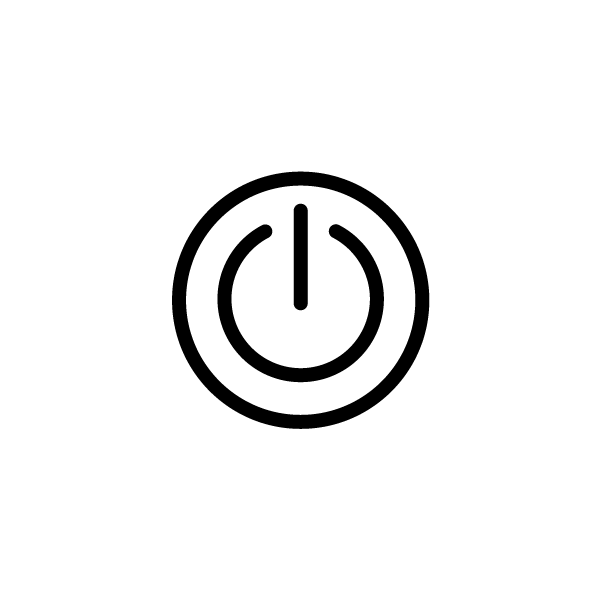 . Press this button to power down the scanner and de-select it from the App.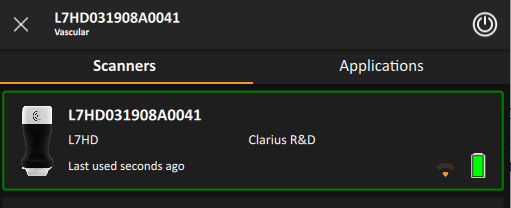 Automatic Shut Off
The scanner has the functionality to automatically shut off after various timeout scenarios. The default timeouts are set as below:
Powered on, but no App connection
Powered on, connected, but no imaging performed, or imaging frozen

Turns off in 15 minutes
Reprogrammed through the Keep Awake setting
Automatic Freezing
The scanner can also automatically freeze imaging after certain conditions are met. These methods will help save large amounts of battery power as the device consumes the most while imaging.
Contact Detection

After 3 seconds of no patient contact detected, lower frame rate is engaged

Reprogrammed through the Contact Detection setting

After 30 seconds of low frame rate mode, scanner will stop imaging

Reprogrammed through the Auto Freeze setting

Motion Sensor

After a period, the scanner will stop imaging if no physical motion is detected (default setting is disabled)
Reprogrammed through the Stationary Timeout setting, with allowable values of 10 - 120 seconds
Eco Mode
Eco Mode can be used to reduce battery consumption as well as reduce the heat produced while scanning. This function moderately lowers frame rate and tunes the electronics to function in a lower power mode of operation. To engage Eco Mode:
On the imaging screen, open the modes menu
Press the Eco Mode icon