Start the Clarius App

Launch the app from your smart device's home screen.

Create an account or sign in if you have an existing account.

Insert the battery

Remove the battery saver tab and fully insert the battery. The scanner light will go from solid blue to blinking blue with audible beeping noise. This means your scanner is powered on.


Claim your scanner

It will take about a minute or less for your claimable scanner to appear in the Clarius App. Make sure Bluetooth is enabled on the smart device.
| | |
| --- | --- |
| | |
| In Clarius App 6.1 or later | In Clarius App 5.2 or older |
6. Claim your scanner to an Institution
Create a new institution by tapping the plus sign, or select an institution that you're a part of.
| | |
| --- | --- |
| | |
| In Clarius App 6.1 or later | In Clarius App 5.2 or older |
7. Select your new scanner from scanner's list.
| | |
| --- | --- |
| | |
| In Clarius App 6.1 or later | In Clarius App 5.2 or older |
In Clarius App 5.2 or older
8. Watch the connection wheel
When the status wheel is complete, the scanner is connected to the Clarius App.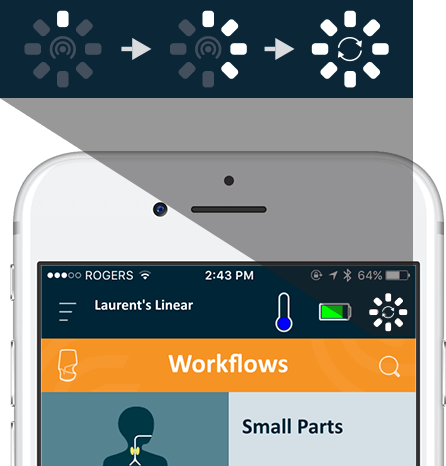 Switch to scanner's Wi-Fi Direct network

After the initial setup, your Clarius Scanner will automatically connect to your smart device the next time you insert the battery. For best performance, a smart device that supports 5GHz Wi-Fi is recommended.

If you have issues connecting, you can manually switch to Wi-Fi Direct.

iOS

iOS 11+ will display a prompt each time the scanner is turned on. Tap the Join button to connect your scanner.

Note

: For iOS 10, or below, users must use the

manual setup method

. The iPhone 4s doesn't support 5GHz Wi-Fi.

Android

A message will display on the screen to confirm auto-connection.


Start scanning

You can navigate between screens with the arrow buttons at the bottom.

Note

: If you have

Quick Scan

enabled, then the steps to select a Workflow and enter Patient Demographics are skipped. Quick Scan is enabled by default in version 5.1 or newer.

To return to the Workflows page, tap the Home icon.
Download updates
In some instances, the system will prompt you to update your Scanner software. Tap Update to proceed.
During an update
The Scanner's light first starts blinking blue, then flashes purple while its software is updating. Do not unplug the battery during this time.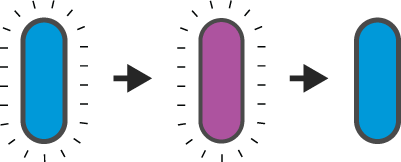 A purple indicator also shows on the top-right of the screen. Once the update is complete, the scanner light will turn blue and the connection will be re-established automatically.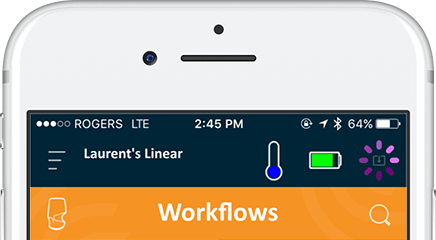 After the update, you may need to refer back to step 9 to re-establish connection.