Clarius Live allows you to remotely share your scanning screen with other clinicians to review. You can send them an invitation via SMS or email, or add them as a Live Reviewer in your institution.
Clarius Live is now available on iOS and Android.
Using Clarius Live
Clarius Live requires internet access. If you are connected to your scanner using Wi-Fi Direct, then your device needs to have cellular data (e.g. 3G, 4G, or LTE) to access the internet. Alternatively, you can use a local Wi-Fi network to connect to the scanner (refer to Using Local Wi-Fi Network).
While on the scanning page, tap on to start a call (the icon will animate while waiting for a reviewer to pick up).

Enter the user's e-mail address or phone number and select Call.

The user will receive an e-mail or text message to join the Clarius Live session.
Tap on the picture-in-picture window to flip between your smart device's front and back cameras.

To end the call, tap on again.

Reviewer
A reviewer can answer a Clarius Live call from their computer, tablet, or smart phone.
The reviewer will receive a request with an URL link via SMS or email (or both).


Click on the URL link. A web browser will automatically open up.
To end the call, click on the hang up button.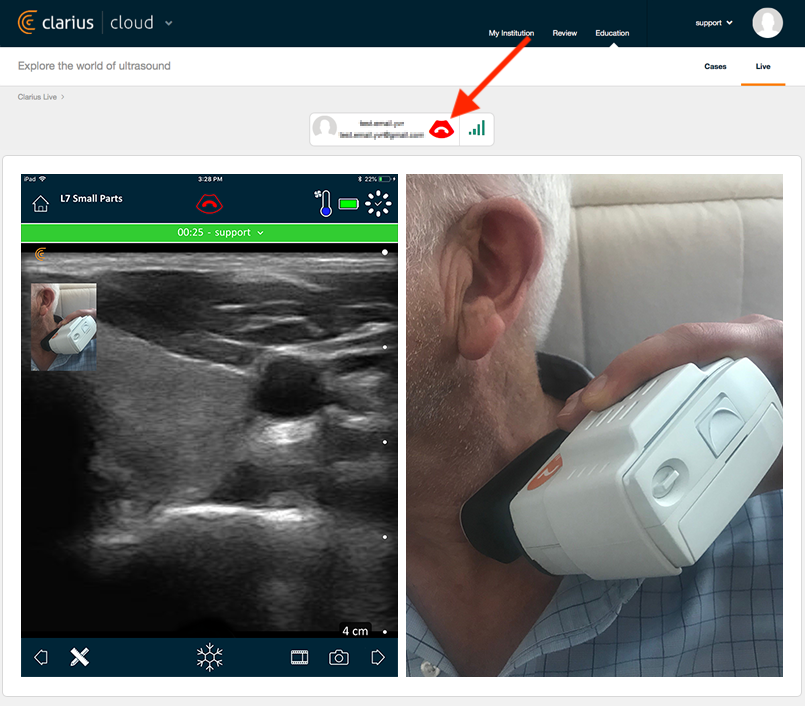 Live Reviewers
You can also add users to your Live Reviewers list. When you make a Clarius Live call and select your institution from the calling list, it will send a request to all Live Reviewers in that institution. Multiple Live Reviewers are able to join your Clarius Live session.
Adding a Live Reviewer to your Live Reviewers List
Note: You need to be an admin to make these changes.
Sign in to Clarius Cloud.
Go to My Institution and then Settings > Clarius Live.
Enter the names of the people in your institution you want to become Live Reviewers, and click Add. You will only be able to add users that are already part of your institution. If the users are not part of your institution, see article on Adding Additional User first.

Live Reviewer: Setting Up your Availability
Live Reviewers will only get Clarius Live notifications when they have set their availability as available.
Sign in to Clarius Cloud.
Click on the arrow next to your username and then Profile > Live.
Check or uncheck whether you want to be available for Clarius Live calls, Get Live call notification by email, or Get Live call notifications by SMS.


Note: For SMS to function, the Live Reviewer needs to enter their phone number in the Phone section in the Profile tab. The format should be "+<country code><phone number>". For example +16045557890 for North America.

Add your Clarius Live availability by clicking or dragging on the calendar to select a time slot and click Create.