Tap on the 3 horizontal line (Menu) from the Clarius App.
Tap Exams and select the exam you would like to export.
Tap on the SD card icon beside the cloud and choose your desired format.
A circle indicator on the SD card icon will provide the progress. Once the images and videos have finished exporting, a green circle indicator with a check mark on the icon will confirm completion. You will need to have the app open until the exporting is completed, otherwise the exporting will stop.
For Android:
Depending on what Android device you have, the following steps may be slightly different. Go to the File Manager or My Files app in your Android device. Under Images you will see the JPEG.
On some devices, they may be located under Pictures/Clarius Export. Some Android file browser Apps hide the internal storage by default. To see the Pictures folder you may need to enable internal storage view.
For iOS:
The exam images and videos will now save to your iOS Camera Roll.
Exporting to Local Device directly from the Clarius app's Impressions Page
In Clarius Version 5.1 or newer, after you have completed live scanning, you are now able to export to your local device by selecting Save to Local Media and choose your desired format.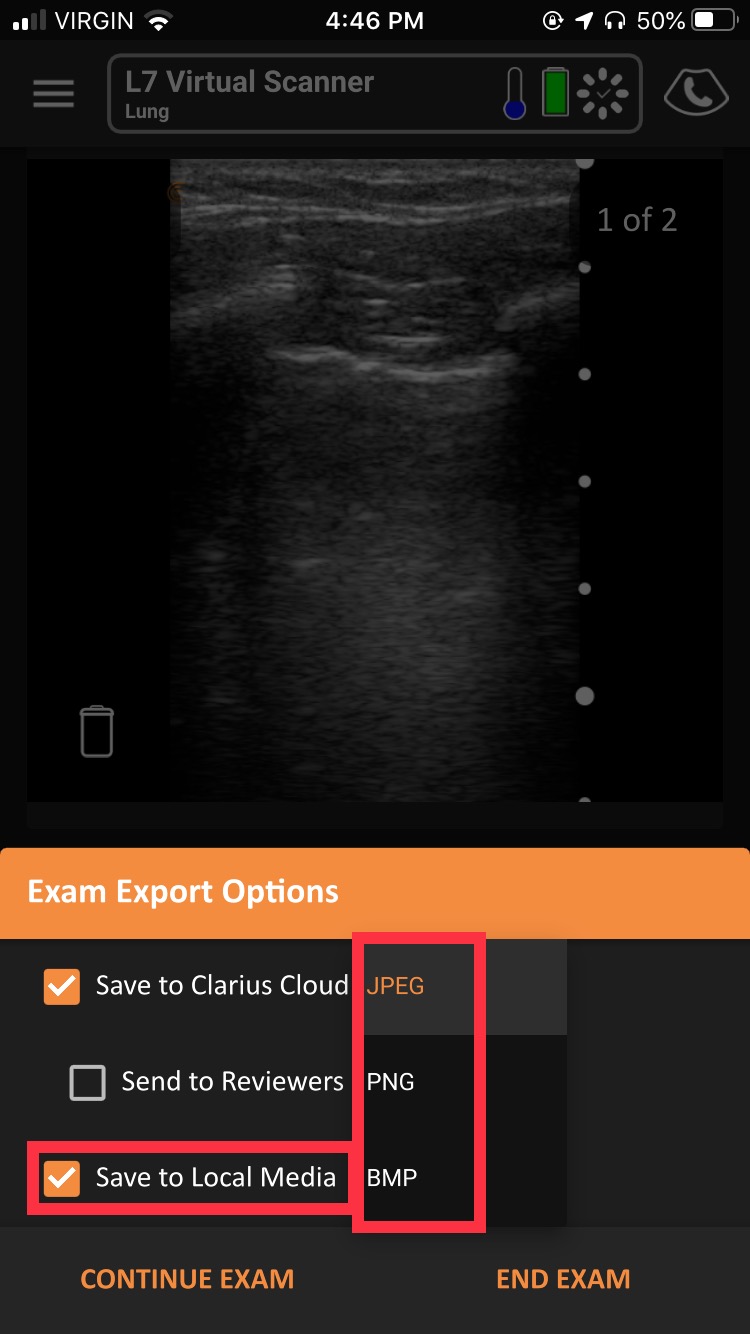 On Android devices, you can take these steps to generate a raw DICOM file using the Virtual scanners to test out its functionality and apply the same with your scanners after doing an exam:
1. Download and log in to Clarius App on an Android device
2. Go to the App's Settings and toggle on Virtual Scanners
3. Select a Virtual Scanner then capture an image(s).
4. Tap End exam, and choose Local Export > DICOM file.
5. The raw DICOM file will now be in your Pictures folder in the Android Filesystem.
Unfortunately, Apple's iOS does not allow storing of non-picture (ie. JPEG, BMP, DICOM) files to the photos folder, therefore generating a DICOM file is not possible.