The Clarius App and Scanner were designed with simplicity and ease of use, compared with traditional ultrasound systems that have an abundance of controls to learn. Using AI algorithms, Clarius automates much of the typical imaging adjustments that are required on these traditional systems.
There are 3 main controls that will provide the majority of adjustments required, all of which are manipulated via touching the image: depth, brightness, and zoom. See the Advanced Controls guide for additional manipulations.
Depth
Manipulate depth by sliding up and down on the image. Dozens of back-end adjustments are made to carefully optimize the image based on the depth chosen. Note that each scanner and application (preset), have pre-defined depth ranges and limits. Visit our Clarius Classroom for a short video tutorial.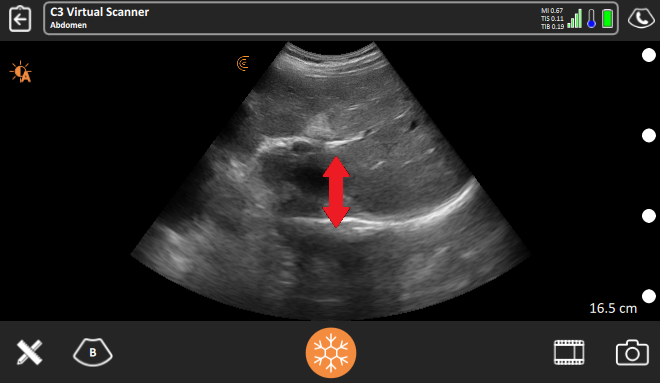 Brightness
Brightness of the image can be adjusted by sliding left and right on the image. The brightness control should give users the flexibility and range needed for defining structures and contrast. Should more fine control be required, turning off the Auto Gain icon

will change the brightness into a 3 slider TGC control. Visit our Clarius Classroom for a short video tutorial in adjusting Gain.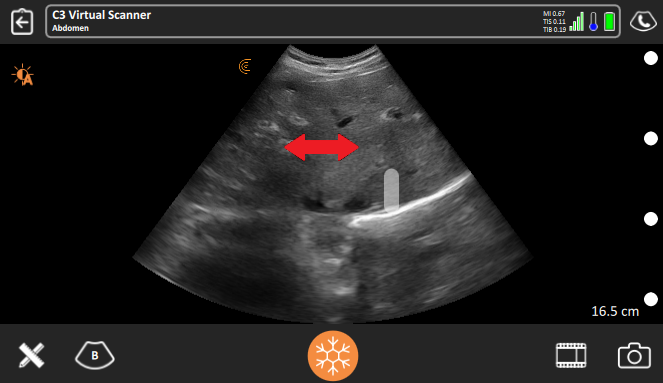 Zoom
Zooming the image can be accomplished by double tapping on the image, defaulting to a 200% zoom level. Double tapping again will revert back to 100%. At any time while zoomed, pinching the image will give finer control of the zoom level which ranges between 100% and 500%. For a short video tutorial, visit our Clarius Classroom on how to utilize zoom.