Install the Clarius App on iOS or Android.
1. Start the Clarius App
Launch the app from your phone's home screen.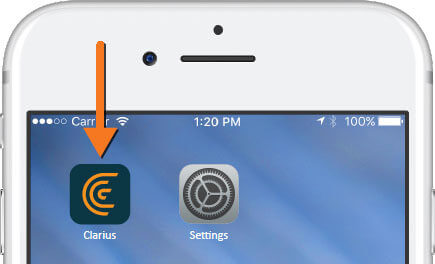 2. Create Account
Create a Clarius account, then confirm your email address and log in using your new login credentials.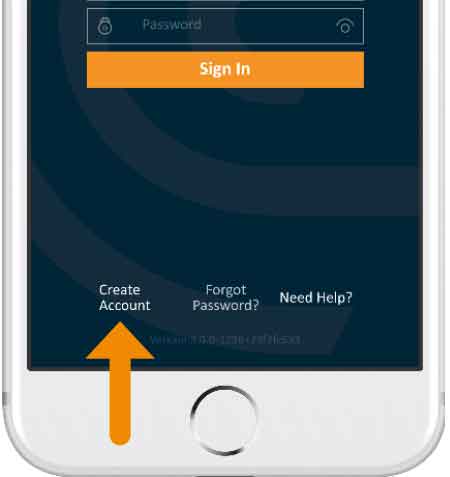 3. Select Scanner and Workflow
Select a Virtual Scanner to use. On the next screen, select a workflow.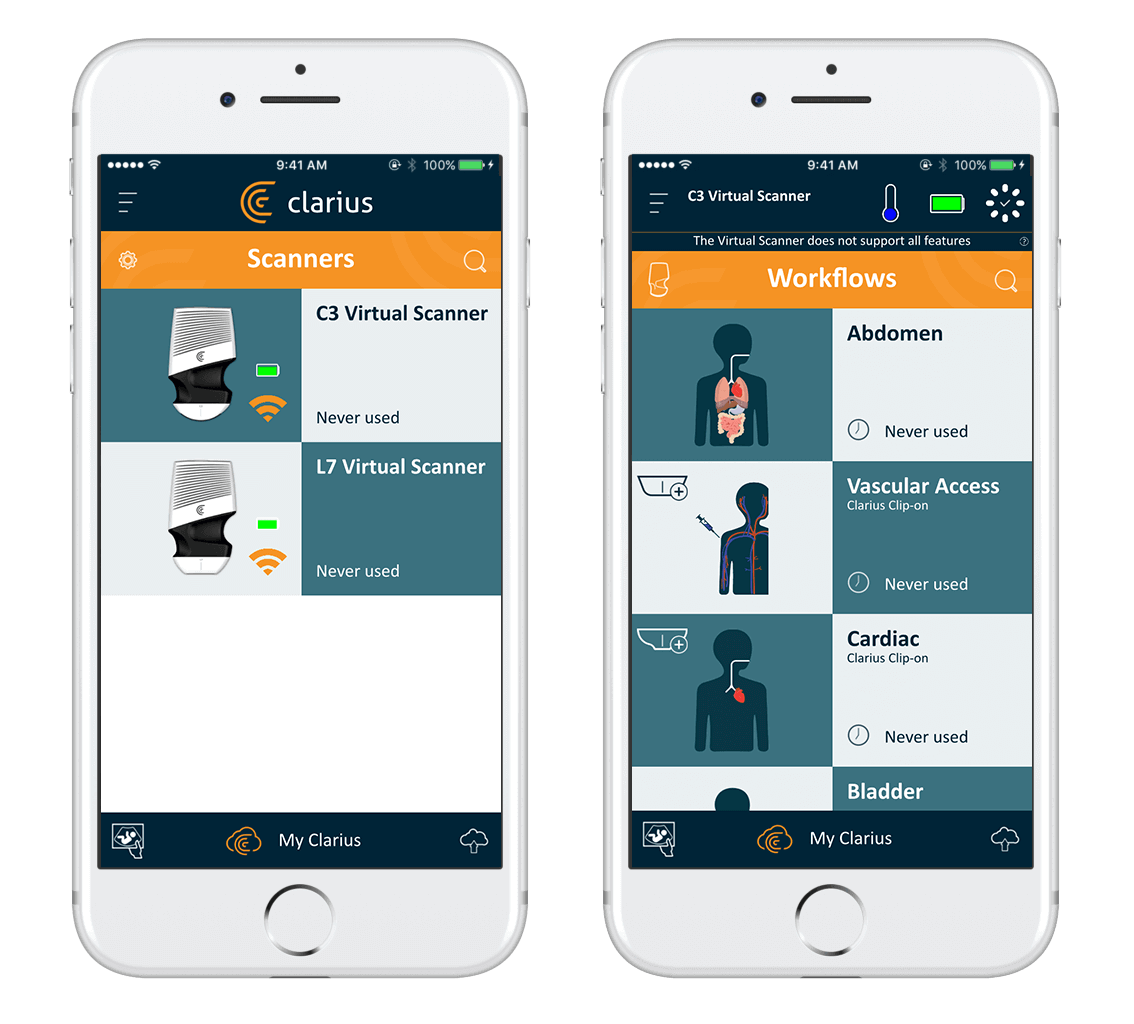 Note: If you don't see any Virtual Scanners, you may need to enable it. Click the menu icon (the three horizontal lines) on the top left corner, select Settings, and enable Virtual Scanners. See the article on enabling virtual scanners for more details.
4. Enter Patient Demographic
After selecting the workflow, you will be brought to the patient demographics form. Here you can enter the patient name, ID and any notes you have and then press the forward arrow to continue.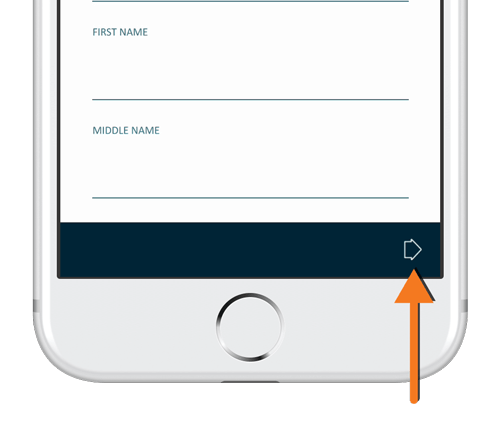 5. Adjust Scan Options
Adjustments
Depth: Swipe up or down on the ultrasound image to adjust the depth.
Zoom: Swipe up or down on the magnifying glass to adjust the zoom.
Orientation: Drag the Clarius icon left or right to change the orientation of the image.
Gain (unavailable on demo mode): Swipe left or right to adjust the gain; the top for near field and the bottom for far field.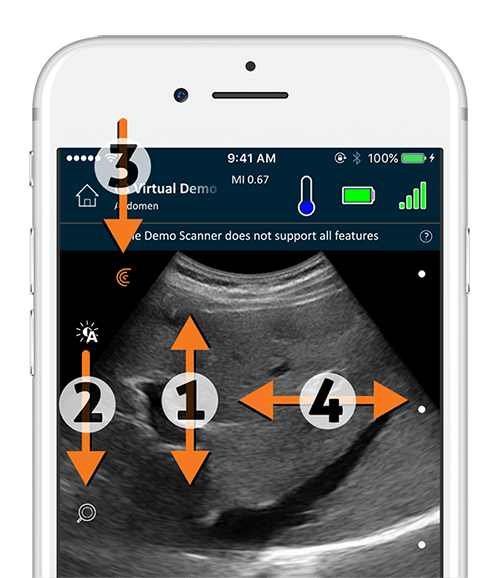 Measurements
To make a measurement, simply Freeze the image (1), select the Annotations and Measurements button (2), and then select the measurement type (3).
Select the two points you want to measure on the image and drag the purple circle points to make any fine adjustments.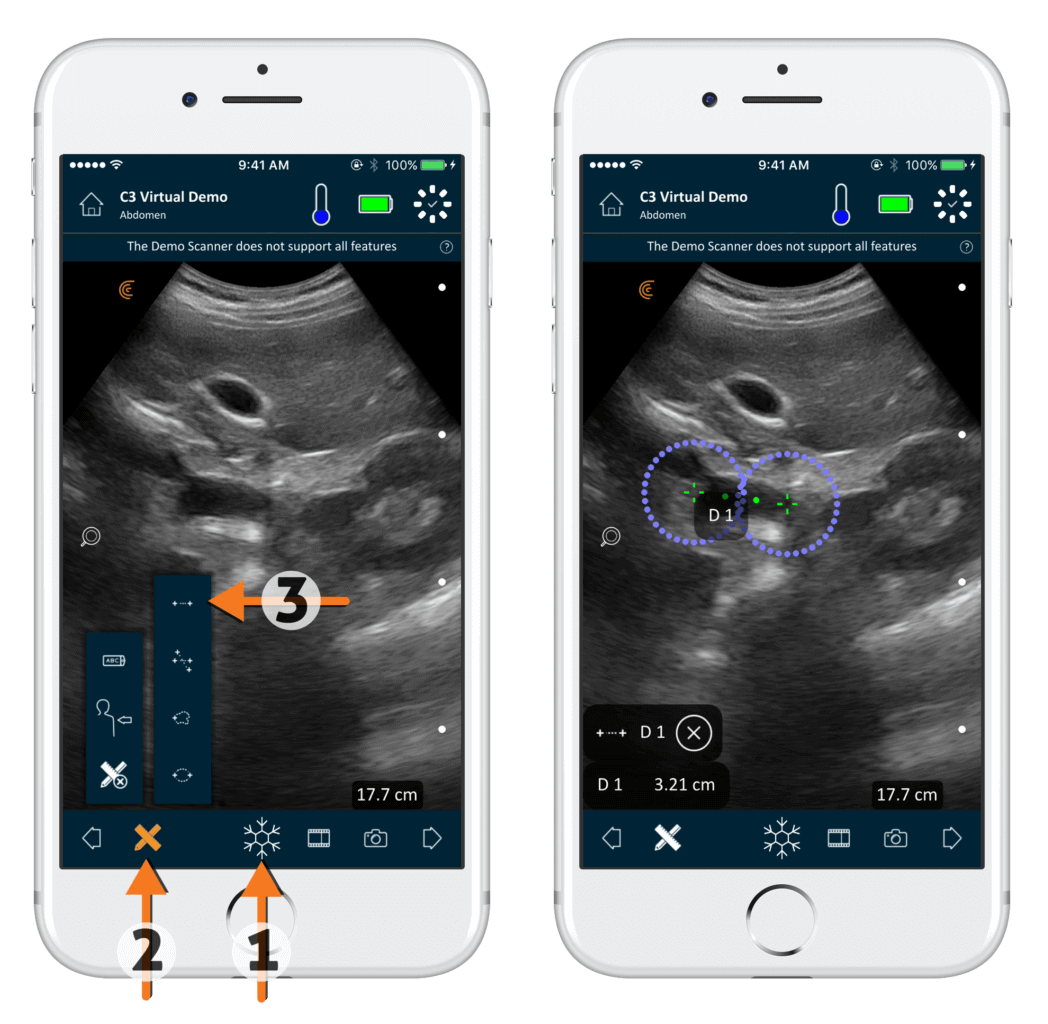 Annotations
Open the Annotations & Measurements menu (1) then the label button (2).
Enter the annotation you want to attach to the ultrasound image.
Touch and drag the pin icon to attach the annotation to the ultrasound image.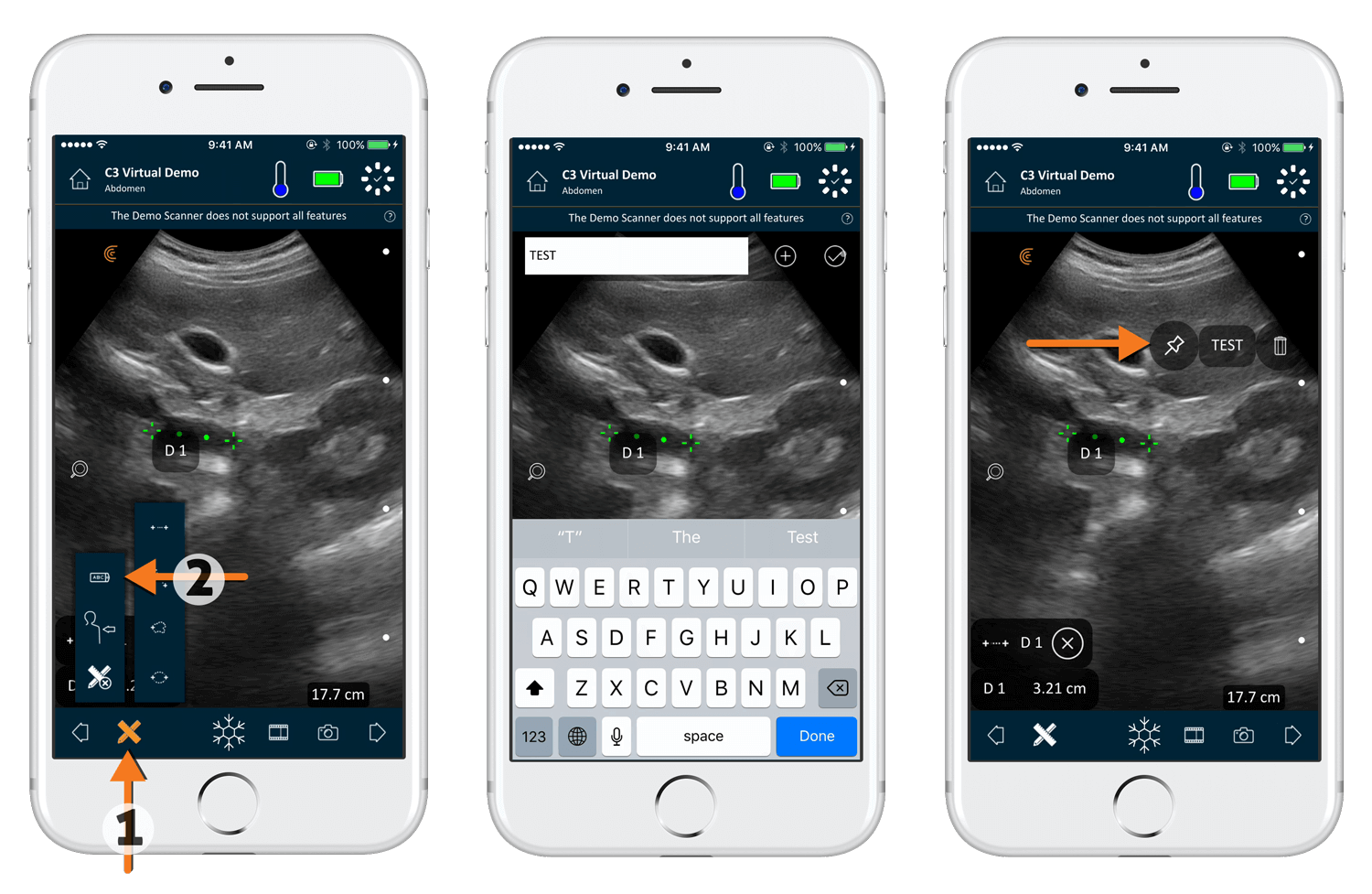 Pictograms
Open the Annotations & Measurements menu (1) then tap the pictogram icon (2).
Choose the pictogram (1) then select the wand and rotate the orientation (2).
Drag the pictogram image to a space that does not obstruct the ultrasound image.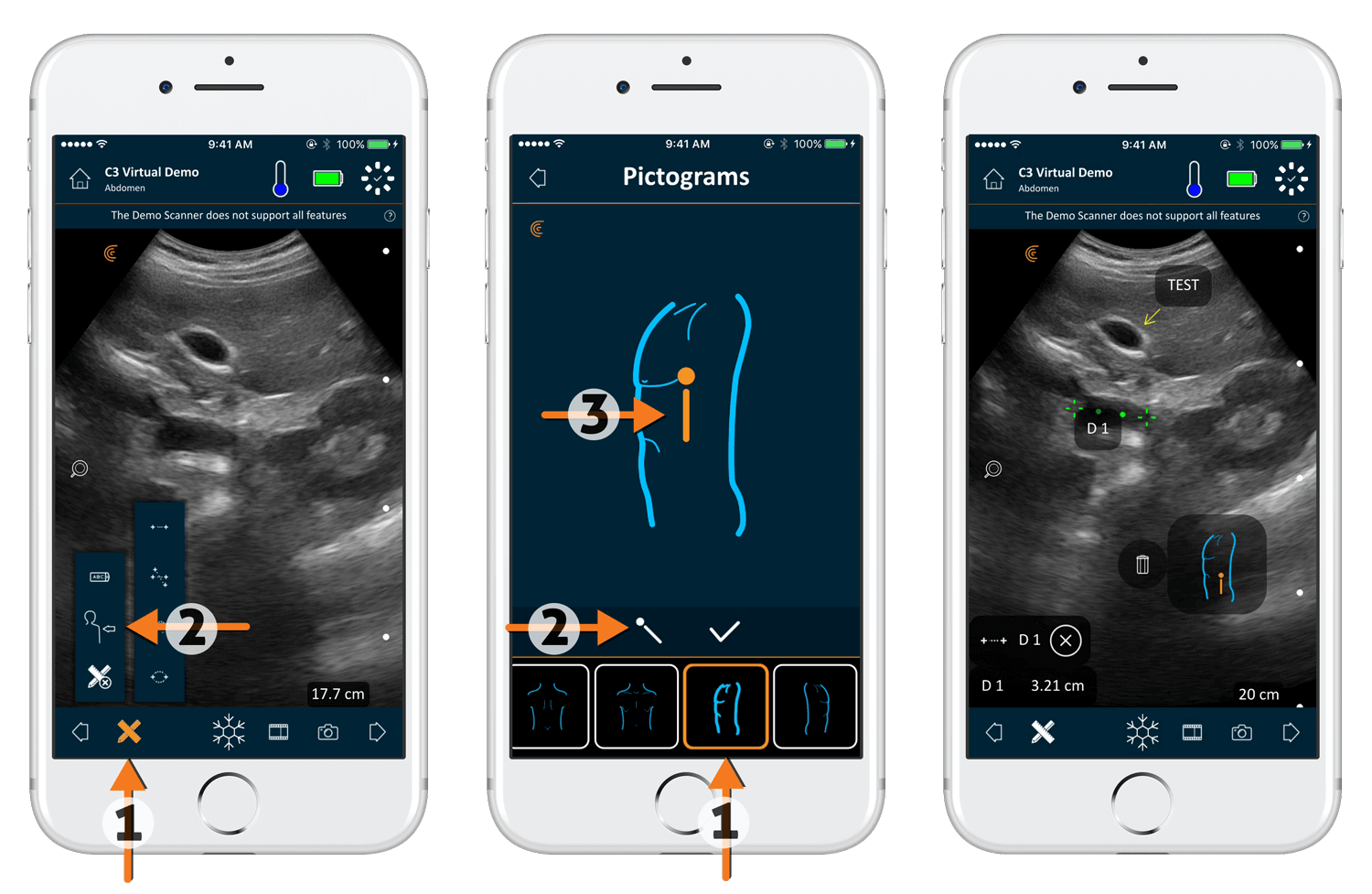 6. Save Images and Videos
Press the camera icon (1) to save the image and press on the film strip icon (2) to save the video for review. Please note that all annotations, measurements and pictograms will be saved along with the image.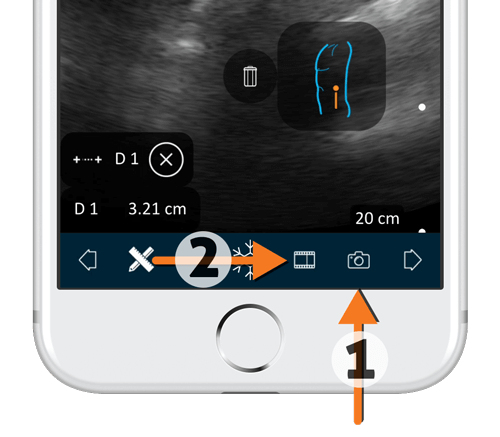 7. End and Review Exam
After measuring and annotating your images, press next to proceed.
Review recordings by swiping left and right on the saved images.
Attach any notes and comments to the exam before ending the session.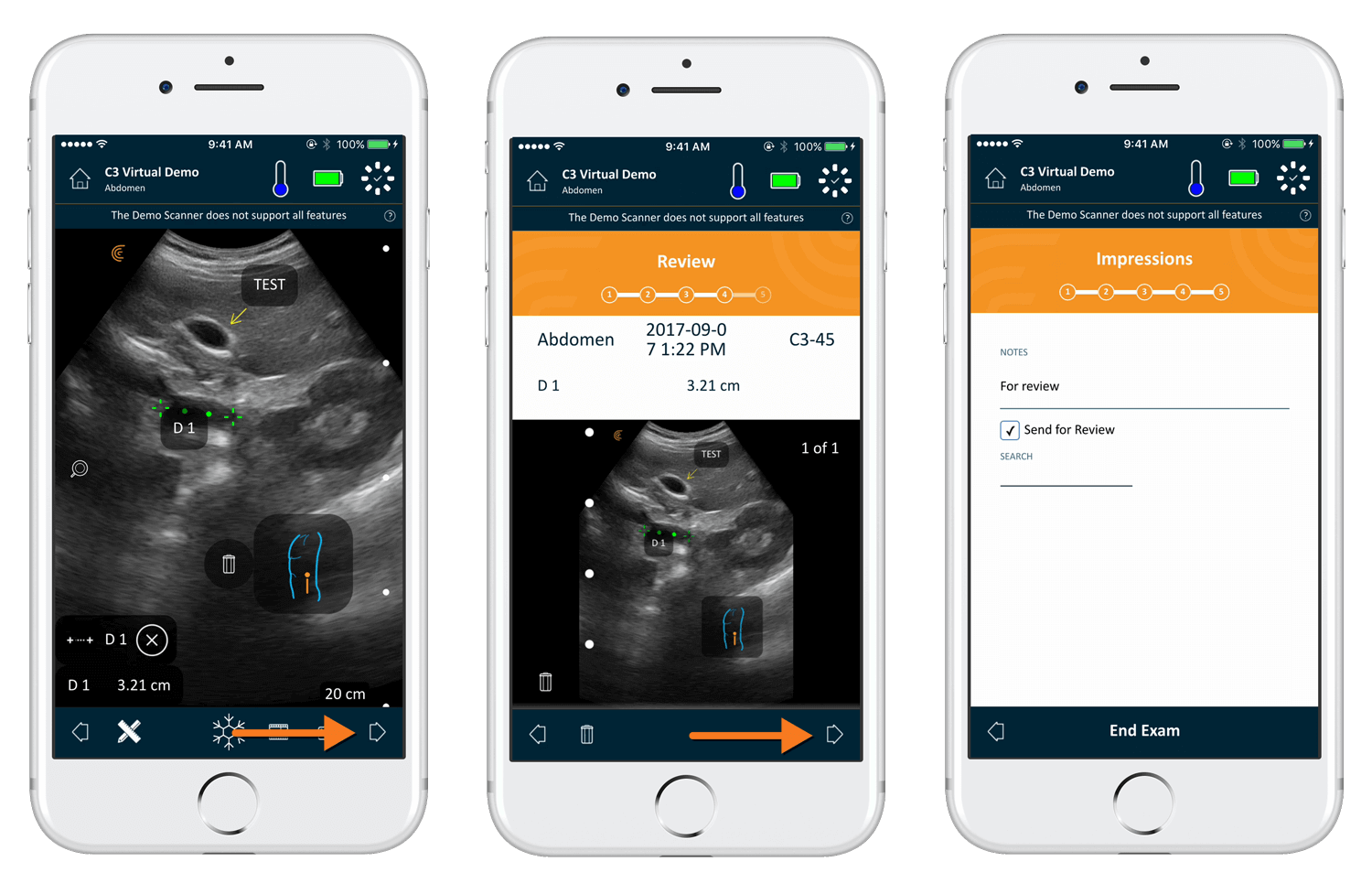 8. Upload and Share Exam on Clarius Cloud
After ending your exam, the images and notes will be pushed to Clarius Cloud. Tapping the My Clarius button at the bottom of the screen will bring you to your Clarius Cloud account where you can share and review exams you have recorded (Note: Virtual Demo exams will be deleted within 48 hours).