The Clarius scanners use Wi-Fi to stream images. It is important to choose the proper router and network configuration if connecting to a 3rd party device. When using the Scanner's Wi-Fi hotspot (the default WiFi-Direct setting), the connection should remain steady and stable while imaging. However, if the signal bar changes from green to another color often, it may be pertinent to enable the Wi-Fi Search option from the App Settings; this ensures that the best wireless band is chosen when the scanner is powering up.


Should a continual drop in frames or lag be detected by the App while scanning, a message may also show up after the image automatically freezes, querying for a real-time connectivity resolution.

Optimizing the Wi-Fi network is a good solution to ensure optimal signal quality while imaging. There are 3 options that can be selected for optimization.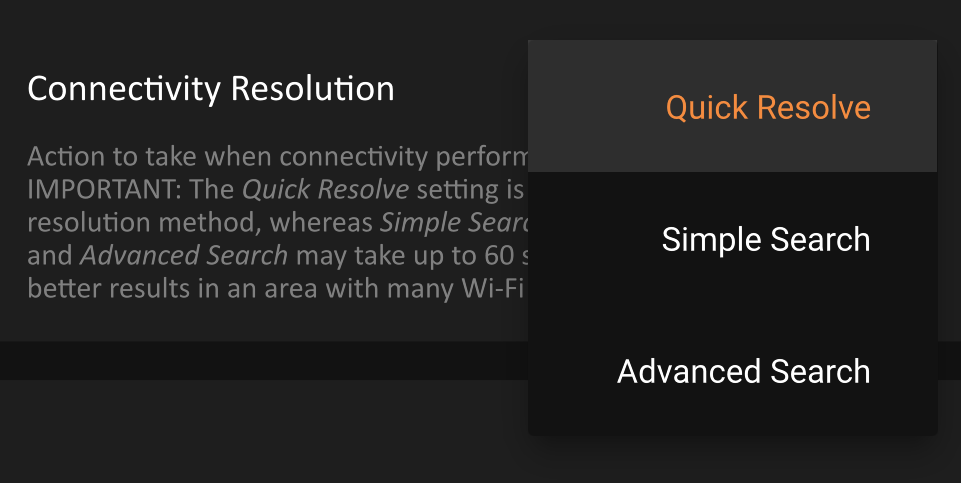 Quick Resolve setting is the fastest and simplest resolution method (default setting).
Simple Search setting may take up to 30 seconds to reconnect, but is a robust method for ensuring wireless quality.
Advanced Search may take up to 90 seconds to reconnect, and is primarily recommended only for environments where there are dozens of wireless networks potentially impeding signal quality - such as tradeshows or hotels.