A sequential sequence of ultrasound images, commonly referred to as a cineloop, can be acquired as part of an exam. Cineloops can be captured in two ways: retrospectively or prospectively. A retrospective cineloop is acquired while the image is frozen and captures what was just scanned, while a prospective cineloop is acquired while the image is live and captures what will be scanned. Captured cines will be uploaded to the Clarius Cloud or to DICOM destinations when the exam is ended and submitted.
For a short video tutorial, visit the Clarius Classroom on how to capture cine clips.
Retrospective Captures
Freeze the image by tapping on the snowflake icon .
(Optional) Adjust the frame marker by sliding left/right on the image or by dragging the cine control marker.
Tap the cine capture film icon to capture the cine as part of the exam.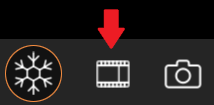 Prospective Captures
While live imaging, tap the cineloop film icon. A countdown timer will display beside the icon and begin to count down as it records the cineloop video. When the counter disappears, the recording is saved.
You can prematurely stop the recording by pressing the freeze button (snowflake icon) , or tapping on the cineloop film iconagain.

After a prospective capture, imaging will freeze by default. To continue scanning, ensure in the App settings Auto Scan Post Cine is enabled.

Adjusting Capture Lengths
By default, 3 second cineloops are captured. This can adjusted to record between 1 and 30 seconds in duration.
Tap and hold the cineloop film icon to display a list of time options.
Select the desired time length.